#HappySehunDay #YehetSehunDay
Let's celebrate maknae Oh Sehun with full of 'Yehets!' and 'Ohorats!' and buing buings!
Happy happy 21st Birthday our dear maknae Oh Sehun! Your already 21!
Wow, time does flies fast! May you have fun celebrating it with all your lovable hyungs and also with your family! The handsome, cute, funny, naughty, and sweet maknae! Yehet ad Ohorat to your birthday! In EXO Showtime Ep 5, your resolution on 2014 that you'll maintain your movements on not being naughty and just stay still! haha… Well you did a pretty good job! Have an amazing time! We will continue to love and support our cute Sehun! and with all your protective and caring hyungs loving you and your family! ❤ Enjoy your Happy Sehun day! EXO, fighting! ❤ ❤ ❤ 😛
xoxo,
Caitlin 🙂
Trending!
Greetings from Tao!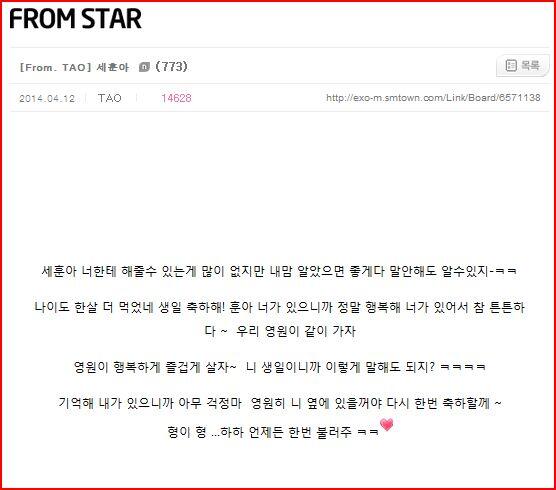 [trans] message from Tao (to Sehun)
Sehunah i dont give you many things but hope u know my heart, i dont say but you know well rite ㅋㅋ
So you're 1 year older, Happy birthday! I'm really happy because you're here. You're here makes me stronger~
Always be happy and live well~ i can say it because today's your birthday? ㅋㅋ
Remember, I'm here so dont worry, i'll stay by your side. Once again, Happy birthday~
Hyung is hyung..haha call me that sometimes ㅋㅋ
Cre: trans by @junparkjunpark
*pictures and gifs are not mine, they belong to owner*